Most people see lawyers as professionals who are very conservative. That is why you could be wondering can lawyers have tattoos? In most cases, you will spot lawyers in suits while carrying briefcases that are full of vital documents.
However, so many lawyers out there do hide ink beneath their suit sleeves. Therefore, like many other professional fields, the legal industry is also accepting tattoos.
Can Lawyers Have Tattoos?
In the past, most people thought that it is distracting and unprofessional for lawyers to have tattoos. However, the times are changing quite quickly. Millennials are now holding big positions in the legal field which makes tattoos more acceptable for lawyers.
As a lawyer, tattoos cannot affect your performance in any way. On the contrary, it is a form of art that shows individuality and tells the story of an individual.
Even though tattoos are acceptable for lawyers, these professionals need to consider a few things before scheduling a tattoo appointment.
Are you a lawyer and you are wondering can lawyers have tattoos? You could also be considering the law profession and just wondering whether you can have tattoos on. This article will shed more light on this topic.
Types Of Tattoos That Lawyers Can Have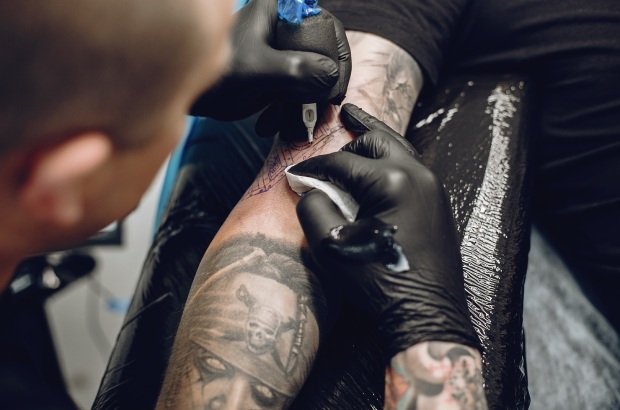 When choosing a tattoo, the lawyers have to stay away from those designs that are offensive. Even if you will cover it with the suit, all job settings discourage offensive tattoos.
The law field is among the most professional job settings that you can work in. Therefore, don't choose the type of tattoo that will hamper your image.
Avoid Doing The Offensive Tattoo
An offensive tattoo will affect your profession as a lawyer negatively. Even if you covered the tattoo, it can be spotted by a coworker or client and this may end up ruining their career.
The customer can post about your wrong tattoo choice on social media and this may turn potential clients away from you. When coworkers spot these tattoos, it can even cost your job. If your colleagues don't like your tattoo, they will be uncomfortable working with you.
Therefore, the wrong tattoo choice can affect both your career life and that of your colleagues. There is no need to lose your hard-earned job because of putting on an offensive tattoo. These insights are a good basis for answering the question; can lawyers have tattoos?
Which Places Can Lawyers Put Tattoos On?

 
Lawyers should put tattoos anywhere that are easily covered by clothes. Therefore, you need to avoid having tattoos on your hands, neck, or face. There is no need to do something that will reduce your chances of getting hired. 
Lawyers also have a professional image that they need to maintain in the eyes of people. Therefore, you need to be extremely careful even if tattoos are becoming more acceptable in this industry. If you are having any queries like can lawyers have neck tattoos? Then I must say there are no such laws against neck tattoos, so you can have them.
Most lawyers will tell you that visible tattoos are unprofessional and unacceptable in the industry. That is why you need tattoos that are covered by your work clothes. Since most people in this industry wear long sleeves, you will not find it hard to cover the tattoos.
Do Lawyers Have To Cover Their Tattoos Always?
It is evident that lawyers have to cover their tattoos using their professional attire. Law firms are very conservative workplaces even though they are now accepting tattoos. Even if you have a small and inoffensive tattoo, you need to cover it so that people don't view it as unprofessional.
The most crucial time to cover a tattoo is when you are appearing in the courtroom. The court has a conservative setting and you need to appear professional when standing before a jury and judge.
The judge can be biased against the lawyer and not take him seriously if he has a visible tattoo. Even though tattoos are visible, they can make you lose the case depending on the views of the jury and judge.
Lawyers should also cover their tattoos when holding meetings with clients. You don't want to leave a potential customer asking can lawyers have tattoos. The lawyer can see you as unprofessional and you may lose very good clients.
Therefore, think twice before you do a tattoo in a visible place if you want to succeed as a lawyer. Put the tattoo in a place where you can hide it very easily.
Do Tattoos Reduce The Hiring Potential Of Lawyers?
Clients consider lawyers to be professionals who should keep a respectable appearance all the time. However, some clients don't bother whether you have a tattoo or not as long as you do their work well.
Since some clients are uncomfortable with tattoos, you can either avoid them or cover them. Some believe that lawyers who have tattoos make rash decisions and poor judgments.
However, this should be an issue for you as long as you cover the tattoo. Therefore, you are moving close to the answer of can lawyers have tattoos?
Most law firms allow their employees to put on tattoos as long as they cover them. Therefore, this takes you back to the point of covering your tattoo all the time. Times are really changing and you can now put on a tattoo as a lawyer. However, to increase your chances of getting hired just cover your tattoos.
How Many Lawyers Do Have Tattoos?
Can lawyers have hand tattoos or piercings? Since most lawyers have tattoos, it is hard to tell the exact number. The reason is that there are many controversies as to whether lawyers can have tattoos on their hands.
The University of Minnesota conducted a study and revealed that at least 45 percent of law students have a minimum of one tattoo before graduating. The percentage is much higher than students in the more conservative fields. The business majors had no students with tattoos and 20% of male and 9% of female pre-med learners had tattoos.
Therefore, the number of tattoos in the law fields was more than double that of the other fields. It is only that you cannot see tattoos that lawyers have because they hide them to remain professional.
Frequently Asked Questions About Tattooing Among Lawyers:-
Q1. Is There Any Law against Tattoo For lawyers?
Ans: No, there is no such law against body tattooing for lawyers. Therefore still now, lawyers avoid tattoos in the uncovered areas of the body, such as the face or neck. But the forearm is always a very suitable place for tattooing. You can easily hide that under your shirt's sleeves. Tattooing is entirely spent on your choice.
Q2. Can Any Female Lawyer Have Hand Tattoos?
Ans: Of course, they can. But still, now, tattooing for lawyers is a very confusing activity. As lawyers always have to maintain a powerful professional image. My suggestion is to do the tattoo on the body parts, which you can easily cover underneath your professional dress.
Even tattoos are now widely accepted among different levels of people. But still now, for some people, this is counted as an unprofessional activity.
Q3. Can Any Lawyer Have Visible Tattoos?
Ans: Yes, there are no such rules against visible tattoos for lawyers. But if you like to do the tattoos in the open areas, you are getting an excellent option like the neon tattoos.
Yes, in daylight, nobody can see the tattoos. Hence in the dark, these tattoos are as bright as neon signs.
Q4. Are Tattoos Harmful To Lawyers' Reputations?
Ans: Unfortunately, this reputation-building entirely depends on your services and the client's impressions. If your client does not like the tattoos,  they do not want to hire you.
But now, the trends are becoming very different, and tattoos are widely excepted. So my suggestion is that if you have an orthodox client or corporate client, then it is better to do the tattoos on the covered body parts.
Conclusion
Can lawyers have tattoos on their hands? Even though tattoos are more acceptable in law firms, the hand is not the best place to put the tattoo. To remain professional, you need to put the tattoo in a place where you can hide it.
You don't need to display the tattoo especially while in court or when meeting potential clients. Hiding the tattoo will enhance your success in the professional field of lawyers.
Read Also: